Catholic Bishops want FG to be decisive in tackling problems, say danger looms 
By Rotimi Ojomoyela
Ado-Ekiti-Catholic Bishops of the Ibadan Ecclesiastical Province have called on the Federal Government to find a credible solution to the various problems bedevilling the Country.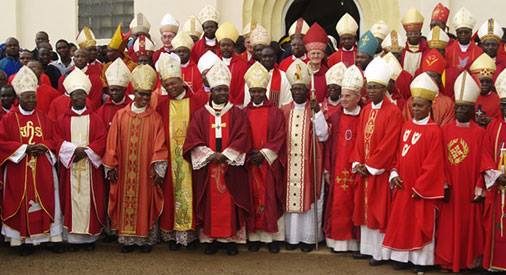 The Clerics said the nation might face most uncertain and bleak future if the Federal Government refuses to be decisive in tackling the social, economic and political ills currently pummelling the nation.
The Catholic Bishops of Ibadan Archdiocese; Ilorin, Ondo, Ekiti, Oyo and Osogbo Dioceses in a communique at the end of their meeting, challenged "the government and competent authorities in Nigeria to be more responsive" to the numerous crimes and ills they said were bedeviling the country, which they described as "irresponsibilities."
In the communique signed by Most Reverend Gabriel 'Leke Abegunrin, president and Most Reverend John Oyejola, secretary, said they noticed signs of persecution of Christians in Nigeria, adding "on a general level, time has come to firmly and sincerely protect religious freedom as the fundamental right of every citizen in Nigeria and make it impossible for anyone to take it away from another by acts of violence and destruction."
They hinged their contention on what they described as "the mindless attack and vandalization of the Catholic Cathedral of St. Joseph's in Ilorin, and with the Methodist Church and Christ Apostolic Church which suffered the same fate, in the same vicinity in Ilorin in the early hours of New Year day by armed youths chanting anti-Christian slogans."
They said: "If we do not find a credible solution to problems of unemployment, human trafficking, terrorism, kidnapping, nepotism, religious bigotry and corruption, Nigeria might face a most uncertain future. We call on our people to continue to work and pray to bring about God's kingdom of justice peace and love."
In the communique entitled "Whither Nigeria!", the clerics noted that "Nigeria is still going through very hard times. We may be able to point out areas of improvement in power supply, agriculture and other matters in some parts of Nigeria. Unfortunately, our woes today seem to weigh far more than these blessings."
The clerics also decried what they said was "the menace of fake news" in and outside the country, saying the effect had destroyed homes and even communities.
"We also urge all institutions of the Nigerian society to promptly and effectively disseminate necessary information that can build up, not destroy society.
"Ineffectual clichés like being "on top of the situation", being on the trail of hoodlums or attributing serious tragedies to "communal clashes", simply will not do, because whenever meaningful information is lacking, fake news manufacturers seize the initiative to cause havoc," they stated.
On Benue killings, the Ibadan Ecclesiastical Province bishops decried the development and charged the government to improve on what they said was its "siddon look attitude" in tackling the menace of the killer herdsmen.
The bishops said: "The unfortunate, by-now-familiar  "siddon-look" attitude of the Federal government to such tragedies involving cow-herders in parts of the country has made many Nigerians to question whether animal rights could indeed  be placed above human lives.
"Lack of preemptive action and delay in reacting to crises allover the country, on the part of government and the security agencies, must be rectified so that innocent lives may henceforth be protected.
"We also call on the government at all levels to support the legitimate yearnings of people's all over Nigeria to live and thrive in peace within their rights as citizens of Nigeria. Surely, cattle-rearing is practiced in other countries in Africa and the world.
"We therefore urge that our
governments consider improved ways of catering for cattle with minimum stress to other legitimate professions, as is done elsewhere in the world and apprehend and prosecute all those who have brought so much pain upon so many people in Nigeria."
The post Catholic Bishops want FG to be decisive in tackling problems, say danger looms  appeared first on Vanguard News.
Tags 2014
You may also like...