Buhari's recuperation, sign of Nigeria's recovery – OSINBAJO
—–I'm happy Buhari is hale , hearty—WIKE
By Johnbosco Agbakwuru
ABUJA – ACTING President, Prof. Yemi Osinbajo has said that the recovery and recuperation of President Muhammadu Buhari signified that Nigeria was going to recover from any challenge facing her.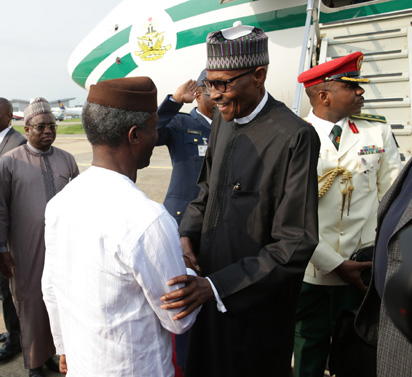 Prof. Osinbajo who may handover powers to the President when he communicates to the National Assembly that he was back and fit to take over told State House correspondents that the return of the President and the mammoth crowd that went to the airport to receive him was an indication that the people were happy.
According to him, "Oh, the message to Nigerians is that, the recovery and recuperation of the President is in some sense symbolic of the recovery of Nigeria. Nigeria is going to recover. We are on the path of strong economic recovery and this is an excellent sign that the country is on the right side. There is great hope, there is great excitement and we are going to make it as a nation.
"As you can see from the many Nigerians who lined up on the road to receive the President as he came back, many Nigerians are happy that the President is hail and hearty and that he has come back. It was a natural reaction, most people heard of his arrival only a few hours before then, but as you can see, the response was so spontaneous. So, I think that people were so exited and very happy."
Also speaking to journalists, the Governor of Rivers State, Nyesom Wike said that he was happy that Mr. President was back hale and hearty.
He said, "We are happy, that he is alive and that is why l am here today to rejoice with the family. We should not play politics with everything. We are here talking about health and irrespective of the party l belong to, you can see that l am here today to rejoice with the family. That is what it is supposed to be. Don't play politics with health issues, don't do that. So, irrespective of what is going on out there, one is happy to be here."
Governor Yahaya Bello of Kogi State said that people were happy because the captain was back.
He said, "Today you can see the faces of Nigerians right from the airport. We now have the Captain on ground; the citizens should also continue to pray for him. We are now ready to take off fully and we believe that everything is now alright and that is why people are so happy today. As I said, we will continue to pray for our president and the country generally."
The post Buhari's recuperation, sign of Nigeria's recovery – OSINBAJO appeared first on Vanguard News.
Tags 2014
You may also like...