Buhari hasn't done much for Ndigbo — Nnaji, others
By Chidi Nkwopara
OWERRI—A random sampling of public opinion on President Muhammadu Buhari's new year message, yesterday, showed that the people are not pleased with his administration.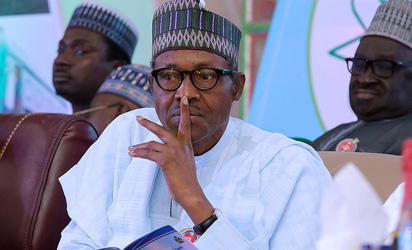 A former Deputy Speaker of Imo State House of Assembly, Chief Chuma Nnaji, lamented that the President has not done the needful for the citizenry, in the last three years.
"Honestly, the President has not done the needful for Ndigbo in the last three years of his presidency. In the area of infrastructural development, particularly roads, appointments to strategic positions and even in the judiciary, no Igbo judge was moved to the higher bench in the recently announced appointments," Nnaji said.
Citing happenings in the Nigerian military, the former Deputy Speaker said "instead of promoting our people, they were retired prematurely."
Answering another question, Chief Nnaji said Buhari has not sited any employment generating establishment in the South-East since he came on board, adding that "as a result of this, the Federal Government has inadvertently created an environment of insecurity. He was also of the opinion that there is an endemic unemployment in the South-East, which he said "has also affected security in the South Eastern states."
Responding also, state Secretary of Peoples Democratic Party, PDP, Nze Ray Emeana, described Buhari's New Year message as "a rehash of the All Progressives Congress, APC, continuous deceitful and failed promises."
It was Emeana's opinion that there was nothing new in the speech, as Nigerians have continued to live in pitch darkness, in spite of the lie of increased power generation.
"This is the worst Christmas ever, as transport fare from Lagos and Abuja to Owerri, was over N20,000. Virtually every kobo available to Nigerians this festival period was spent on fuel and diesel, which rose to over N350 and N250 per litre, respectively, at filling stations, leaving the government helpless, except blaming marketers for their ineptitude," Emeana said.
While saying that he was surprised that government did not blame the PDP as usual, Emeana, however, opined that the marginalisation of the South-East by Buhari's failure to include the zone in the development of the railways, can be taken as the official policy of APC, even as roads in the South East have become a nightmare.
"The government has failed in virtually all it's promises in education, healthcare and the economy. The exchange rate has remained all time high at N365 to the United States dollar. We have lost the largest economy status of Africa. Youth unemployment is over 47 percent, with an annual growth rate of less than 0.4 percent. This is sad," Nze Emeana said.
The post Buhari hasn't done much for Ndigbo — Nnaji, others appeared first on Vanguard News.
Tags 2014
You may also like...