Bring back RCC to complete project, APGA Chieftain urges Nwoye
By Nwafor Sunday
The National Coordinator APGA Media Warriors Forum, Evang Chinedu Obigwe has on Tuesday urged Hon. Tony Nwoye to bring back RCC construction company to complete the Umunya axis of the Enugu/ Onitsha express project, noting that  the abandonment of the project immediately after the governorship election in 2017 was quite deceptive.
Obigwe made this known in a press release, he issued to newsmen after he made an assessment visit to the Umunya axis of the Enugu/ Onitsha express site on Tuesday.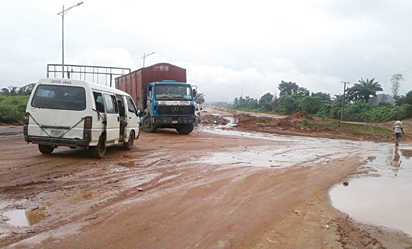 Recall that during the campaign period for the November 18th governorship election, Tony Nwoye was quoted to have said that the APC led Federal government would commence work at the Federal road site and finish it without wasting time.
"I find it very difficult to believe that the site remained the way it were before. It is deceptful to have convinced Anambrarians that the work would not take time, whereas nobody is doing any serious thing on the site today", Obigwe said.
He advised Tony Nwoye to refrain from playing with the intelligence of Anambrarian and charged him to bring RCC back to site to complete the project before the next rainy season.
Speaking further,Obigwe said that it was wrong for Nwoye to claim that he has concluded plans with Federal ministry of works for the construction of the Otuocha-Nzam-innoma-iheaka-ibaji-oduluAjejewu federal road whereas nothing has commenced. "Its Nwoye's plan to deceive the good people of Anambra east and west ahead of 2019 election", he said.
He equally,urged Nwoye to use his federal might to compel the APC led Federal government to reimburse Anambra State Government the alleged 43 billion Naira they spent in the execution of Federal projects across the State.
He commanded Anambra elders led by HE Emeka Anyaoku, for demanding the refund of the states money, saying that since the elders have publicly demanded the refund of the money that Tony Nwoye should now wade in and ensure that the money is refunded to Anambra State Government.
The post Bring back RCC to complete project, APGA Chieftain urges Nwoye appeared first on Vanguard News.
Tags 2014
You may also like...