Breaking: Suspected herdsmen kill two in fresh Plateau attack
By Marie-Therese Nanlong.
Jos – Two people were on Sunday night ambushed and killed at Wereng village in Riyom Local Government Area by yet to be identified gunmen.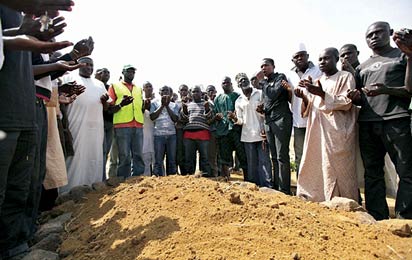 The victims were said to have been ambushed near Wereng Station and were found dead on Monday morning. Locals believe herdsmen killed the victims.
Police Public Relations Officer, PPRO in the State, Mathias Tyopev, told Vanguard on phone that the DPO of Riyom has reported the case.
According to him, "It was reported by one Davou Moses who came to the Station today at about 8.15am and reported that at about 9.30pm on Sunday, some suspected herdsmen ambushed, attacked and macheted to dead the two people who were riding on a motorcycle.
"The names of the deceased are Chong Christopher, 28 and Bulus Dantoro, 35 and at the scene, two sticks suspected to belong to herdsmen were discovered close to the corpses and investigation has begun." He said.
However, the Transition Committee Chairman of the local government area, Mr. Emmanuel Jugul said, "Yes, it is true that there was an attack at Wereng, two youths were on a motorbike, some people chased them, machete and killed them.
I went there to see the situation, people are there now crying. That's what happened, at the time I left, security agents were there carrying out their investigations."
It would be recalled that isolated killings, ambushes on lonely paths were regular occurrences in that local government area but there was a reprieve for about two years but the trend had resumed since last month.
The post Breaking: Suspected herdsmen kill two in fresh Plateau attack appeared first on Vanguard News.
Tags 2014
You may also like...