Borrowing a leaf from South Africa's Sports Development Strategy – Yemi Olus
Two weeks ago, the International Association of Athletics Federations (IAAF) released a shortlist of nominees for the World Athlete of the Year award. The list comprises of 20 names (10 Male, 10 Female) of some of the best athletes in the world.
Fourteen countries are represented in the list of nominees, and it is instructive to note that two countries are tied for the highest number of nominees – Athletics world power USA, and South Africa, with both nations having three nominees each for the highly coveted IAAF World Athlete of the Year award.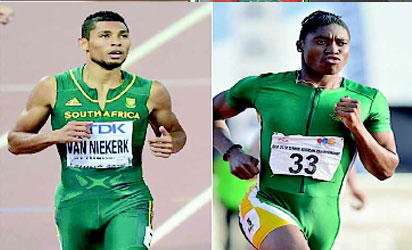 The South African trio of Wayde Van Niekerk, Caster Semenya and Luvo Manyonga won Gold in their respective events at the 2017 World Championships in London in August, propelling their country to 3rdposition on the medals table – South Africa's best ever ranking at the biennial competition, having finished 13th two years ago in Beijing. All three athletes are currently ranked No.1 in the world in their events.
Manyonga and Semenya were particularly dominant in the Long Jump and 800m respectively, and remained unbeaten all through the season. They also added the IAAF Diamond League trophies to their Gold medals from London. Manyonga even went on to set a new African Long Jump Record of 8.65m earlier in the year.
The amazing aspect of South Africa's rise in Athletics is the fact that these successes have been replicated across all age levels, and isn't limited to the senior category alone.Despite sending a 'lean team' to the 2017 African Junior Championships in Algeria in June (Nigeria didn't send a team to this competition), South Africa finished 2nd on the medals table as almost every athlete in the squad returned home with a medal.
At the IAAF World Youth Championships in Kenya, the South Africans held sway once more and finished at the top of the medals table (Nigeria didn't send a team to this event as well).
Speaking with the media recently, Athletics South Africa (ASA) President AleckSkhosana identified the factors responsible for the country's ascent in the sport.
He said: "I think there are two reasons. First, there is cohesion in athletics administration countrywide. We are all speaking with one voice and there is no more pulling and pushing each other with negative vibes. Secondly, South Africa as a country is very strong in athletics and in coaching in particular. As a result of that, we've worked hard to ensure we've got the support of our coaches at every level and they are all working to make sure the athletes shine. I think those are two things we can pinpoint at this stage, but it comes down to cohesion, strong competition, strong coaching and the strategy we have implemented by aiming to be on top of the world."
Many years ago, Nigeria used to be regarded as one of the powerhouses of Athletics on the continent and even in the world,   especially in the Sprints. We need no soothsayer to tell us that those days are far gone, with nothing left but the ashes of yesteryears. Instead, countries like South Africa and Cote d'Ivoire have since taken the lead and are making an impact on the global stage.
It's become a herculean task trying to get a Nigerian male sprinter to run under10 seconds since Olusoji Fasuba accomplished his feat of setting the African Record of 9.85seconds in 2008. The reverse is the case for South Africa whose sprinters have been breaking the 10 second barrier with ease. Three South Africans (Akani Simbine, Wayde Van Niekerk and Thando Roto) are among the Top 10 sprinters who have run the fastest times in the world in the 100 metres this year. Van Niekerk and Simbine are also among the Top 10 best athletes in the world in the 200m.
For too long now Nigeria has been putting the cart before the horse with our obsession with winning age grade competitions at all cost, including fielding over aged athletes, which has resulted in short-term successes that are yet to be replicated at senior level.
These quick fixes have done little or nothing in mitigating the downward spiral of the sport that has brought more glory for Nigeria at the Olympics than any other sport, including Football.
While we were dominating the continent at Youth and Junior levels, South Africa went back to the drawing board to re-strategize. It meant a few years of playing second fiddle to the Giant of Africa but their strategy eventually paid off and they are now the cynosure of all eyes and are already giving powerhouses USA and Jamaica a run for their money. They are also building a reserve that will keep churning out world beaters for decades to come.
Hear Skhosana:"If you look at the youth and junior categories, we have a pool of athletes from entry level through to senior level, so if we do not go wrong, it means that for the next 20 years or more we will have athletes representing this country and coming back with medals from major international championships. We want to broaden the base and the best way to do that is to bring in a structured schools competition from primary school to secondary school. We are busy with that now.
"We need to strengthen the schools' competition, working with school sport as one of our members and ensuring that every district and corner of this country has a structured competition in order for us to produce the desired results. Right now we are working on ensuring that for the next 20 or 30 years we will always have athletes coming through. Athletes who are in primary school now will still be active in 20 years. Competition for those athletes and training for those coaches, is very important to us."
It's about time Nigeria begins the tough but rewarding task of salvaging the sport if we are to bounce back into global reckoning. South Africa is doing it; so can we.
The post Borrowing a leaf from South Africa's Sports Development Strategy – Yemi Olus appeared first on Vanguard News.
Tags 2014
You may also like...