Borno, Yobe, Adamawa states' people may die of hunger, malnutrition – Oxfam
…tasks FG on pro-smallscale farmers' policies
By CALEB AYANSINA
ABUJA – OXFAM in Nigeria has raised alarm that over 5.8 million people in the northeast part of the country were food insecure and might die of malnutrition, if urgent food assistance was not provided.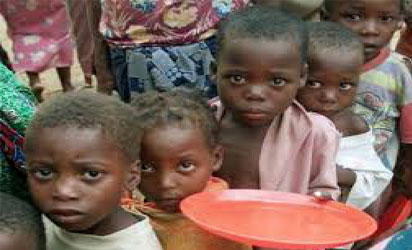 To this end, the Deputy Director, Oxfam in Nigeria, Mr Constant Tchona, said it is imperative for the Federal Government to step up implementation of policies that directly benefit smallholder farmers to enhance food production in the country.
Tchona, who was speaking at the presentation of a report tagged; 'Fine Words Do not Produce Food', in Abuja, revealed that out of the 5.8million people, 5.2 million are living in Borno, Yobe and Adamawa states.
He explained that insurgency, militancy and Fulani/farmers crisis had pushed communities in the country into dangerous levels of food insecurity, wandering how could the country improved its food production, when farmers could not cultivate their farmland due to fear of unknown.
According to him, there is urgent need by government and other relevant stakeholders to scale-up food assistance to save lives, while improving humanitarian access to prevent famine in the volatile region.
"Now in its eighth year, the conflict in Northeast Nigeria has pushed communities into dangerous levels of food insecurity and malnutrition. According to OCHA Crisis update for October 2017, over five million people are food insecure and at crisis and emergency level.
"Over 450,000 children are suffering from severe acute malnutrition. In pockets of Borno state, over 50,000 people are living in famine like conditions and don't have access to humanitarian services.
"Food still remains the biggest unmet need of Internally Displaced Persons (IDPs). The bulk of humanitarian funding required for the 2017 is needed for food security and agriculture, totalling 480 million USD; and so far, as of September, only 45 percent of the funding has been received," he said.
Tchona noted that death of policies to improve agricultural sector was not the problem of Nigeria, but the implantation of those policies was not reaching the small scale farmers, who are the backbone of the sector.
"The fast majority of the people in Nigeria are small scale farming. The need for transformation in policy can't be more urgent. Nigeria is not in shortage of policy, there are commendable policies in Nigeria, yet there are problems. Why? It is because the implementation of those policies doesn't reach the small scale farmers," he said.
Continuing, Tchona maintained, "Programmes that have demonstrated success in enhancing food production and providing a ready market for products, such as Lake Rice and the GESS, should be sustained and improved to support smallholder farmer.
"These programmes should consider conducting a needs assessment that draws on the input of farmer groups and community leaders. Rather than uniform services, farmers should receive what they need- some farmers require fertilizer while others in lowland areas are in need of other services."
The post Borno, Yobe, Adamawa states' people may die of hunger, malnutrition – Oxfam appeared first on Vanguard News.
Tags 2014
You may also like...