Border guards for killer herdsmen
By Emeka Obasi
Without taking away anything from President Muhammadu Buhari, I think what his regime lacks is the intellectual capacity to tackle some of the issues crippling the country. Some of the people around him should at best be confined to their respective local government areas as comfortable pensioners.
It is disheartening that under a general that drove trigger happy Chadian forces back to Ndjamena, we are experiencing a frightening security situation. It baffles me that with a man like Gen. Abduraman Dambazau in government, things are getting worse.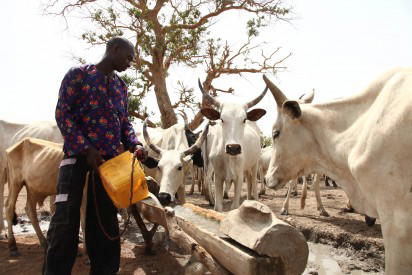 Dambazau, I must admit is sound, very sound. He holds a PhD and he is vastly traveled . There is no security challenge beyond him if the former Army Chief sincerely works out a scholarly solution to the menace of killer herdsmen.
As the minister of Interior, he should know that the Nigeria Immigration Service, as presently constituted, is incapable of policing our borders effectively in the face of looming invasion from elements who may not be Nigerians even if they claim to be Fulani.
President Buhari should as a matter of urgency set up a new branch of the Armed Forces to be known as Nigeria Border Guards[NBG]. This should be independent of the Army, Navy and Air Force. As the Commander-in-Chief, we should throw politics aside and fix things with the National Assembly.
The duty of the Border Guards will be primarily to man our frontier especially, North, West and East. This will include monitoring movement of persons and material now that we seem to have not only unknown faces but also weapons of destruction all over us.
The Immigration should restrict themselves to their normal duties and hands off security matters. Their border guards unit should be disbanded. Customs should also face other statutory roles.
In the Netherlands, their Border Guards, The Royal Marechaussee are part of the Armed Forces. It is the same in North Korea, Iran, Egypt and Vietnam. Even in Italy, the Border Police Service, Guardia di Finanza, is part of the Italian Army. We could do the same here.
This should be devoid of the usual Nigerian disease of nepotism or tribalism. Let each of the 36 states and Abuja raise 1,000 able bodied men and women majorly from the millions of unemployed graduates and school leavers on our streets.
President Buhari is Fulani. Dambazau is Fulani. The Minister of Defence is also Hausa-Fulani. Buhari, I know as a strong soldier. Dambazau is brainy. I cannot vouch for the Defence minister.  In all honesty, I do not think the retired One-Star general has what it takes to oversee the Border Guards.
It is believed that the killer herdsmen are Fulani. It may be true because the Buhari government has not employed the services of experts to look into these conflicts. There is more to it than meets the eye.
Senator John Shagaya made a revelation before he passed on. He traced the present crisis to what the Nigerian government did in 1984 by sending Ghanaians home as illegal aliens.
Ghana retaliated by sending all Fulani pastorals to Nigeria even if they all were from different parts of the sub region. Benin, Sierra Leone and Togo did the same. Nigeria was therefore to absorb a new set of immigrants, without documentation.
The migrant Fulani came and to keep an eye on them, the new government of President Ibrahim Babangida caused them to form an Association of Cattle breeders. That was how the Miyetti Allah Cattle Breeders Association of Nigeria [MACBAN] came into being.
Somehow, many of the neo-Fulani dispersed. Some went back to Mali or wherever. Some of those who stayed behind did not have the same characteristics as the local Fulani. This led to misunderstanding even within. And possibly that is part of what we are seeing today.
Sultan of Sokoto, Abubakar Saad, once said that the killer herdsmen were not Nigerians and should be treated as criminals. The Emir of Kano, Mohammed Sanusi(11), has urged MACBAN to identify the bad eggs within. We should come together to stem this aggression.
The problem is that some of the Fulani do not have the courtesy to be involved in solving this menace through their unguarded statements.
Some Nigerian Fulani could be using some of these mercenaries to wage personal battles in the name of protecting their business. The Fulani we knew were not wielding automatic weapons. They had their sticks and kettles.
Yes, mercenaries because things have changed. There are fundamentalists in many parts of Sub Saharan Africa affiliated to Al-Qaeda in the Islamic Maghreb[AQIM].In Mali, there is Hamadou Kouffa's Katiba Macina. In Burkina Faso, we have Ansarul Islam led by Ibrahim Malam Dicko.
The fall of Muammar Gaddafi led to the proliferation of weapons which are in the hands of gunmen from Chad to Niger down to Nigeria. President Idris Deby of Chad, a veteran of conflicts with Libya has been hard on terrorists. This is what we expect from the Federal Government.
Perhaps the new Border Guards, well trained, will be able to change the tide of this war against terrorism. Many of the killer herdsmen know of our porous borders. We should remove sentiments and face this challenge courageously like we are pushing again into Ndjamena .President Buhari should convene a meeting of stakeholders, set up the Border Guards and do away with some of those in his cabinet who bring him down through words and deeds. A very objective Dambazau will be a huge asset.
The post Border guards for killer herdsmen appeared first on Vanguard News.
Tags 2014
You may also like...