Board to verify military pensioners from Nov. 26 to Dec. 9
Abuja – The Ministry of Defence in conjunction with the Military Pensions Board (MPB) will conduct general verification for all military pensioners on the pay roll of the board between Nov. 26 and Dec. 9.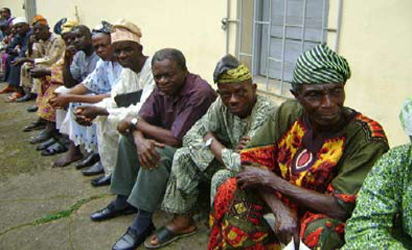 Sqn. Ldr. Ikenna Ezendu, the Public Relations Officer of the board, via a statement issued on Friday in Abuja, said the exercise was to ascertain the actual number of pensioners.
Ezendu also said it was to update the military retirees' biometric records.
"During the exercise, MPB identification cards will be issued to pensioners who are yet to collect," he said.
He added that detailed brief of the conduct of the exercise would be communicated by the ministry of defence.
Ezendu urged all pensioners to make themselves available for the exercise with all relevant documents.
"The exercise will be for only military retirees who are currently being paid pension by MPB.
"Fraudsters are warned to stay away from the verification centres as culprits will be prosecuted in line with extant laws," he said. (NAN)
The post Board to verify military pensioners from Nov. 26 to Dec. 9 appeared first on Vanguard News.
Tags 2014
You may also like...