Benue killings: We demand prosecution of leaders of Miyetti Allah —Gov Ortom
BY PETER DURU, MAKURDI
Governor Samuel Ortom few days ago led a high powered delegation from Benue state to  brief President Muhammadu Buhari on the killings in the state by suspected herdsmen. In this interview he spoke on the demands put forward to the President and other issues.    Excerpts:
Why did you lead a delegation to Aso Rock to see the President few days ago?
Actually, since the crisis started I had correspondence with the president on the killings in Benue state which was to be followed by a visit to him. The leaders in the state then decided that instead of me going alone, it should be a delegation of Benue leaders to the President.  We actually appreciated him for intervening to ensure that the killings were checked with the deployment of more security personnel to the state. He promised to give us security to ensure the protection of lives and property and check further killings in the state.  We appreciated him for his decision and also called for the arrest of those we fingered to have masterminded the killings who are the leadership of Miyetti Allah Kautal Hore and are still working the streets free. We made it clear that it should not be allowed because it will encourage impunity. Impunity should not be allowed to continue because it will be a bad signal. The only way we can stop impunity is when sanctions are meted out appropriately. If we allow it go on it will no doubt give a wrong signal. And I think that inciting people is also a crime. When people kill and come out to say they did it because cattle were rustled, what more evidence do you need to move and arrest such people? So Mr. President assured us that he would deal with the matter.
Miyetti Allah purportedly came with some conditions for peace including the setting up of ministry of livestock. What's your take on that?
Well that is beyond me, that proposition should be taken to the federal level not Benue state government. How I wish I have land to give for open grazing. If I had it I would have also given it for cattle colony. The truth is that there is no land in Benue state that is the dilemma we are faced with here in the state. Our people must farm and we must put an end to all these problems. And I still repeat that ranching remains the global best practice, there is no alternative to that. I have cited several countries and not just in the developed world but in the African continent, even in smaller countries like Botswana, Zimbabwe, Tanzania and Kenya, they all ranch their cattle. If these countries can adopt the modern way of cattle breeding why is it so difficult for us to do the same thing so that everybody will live in peace. You'll agree with me that it is not because of the grazing law that these killings in Benue took place. Killings were happening here. We're all witnesses we saw what was happening. Even right now as we are talking there are killings going on in other parts of the country. So, it is very sad and we have to put an end to all these.     I have been blackmailed in several places for what we have done in Benue state but beyond that, I know that I am serving my people and I'm serving God and I am committed to it. Leadership is about yielding to the wishes and aspirations of your people. That is what we have done in Benue and the people are happier for it because it is targeted at ensuring peaceful coexistence among the people both farmers and herdsmen alike. And I don't think we have committed any sin by ensuring peace in the state.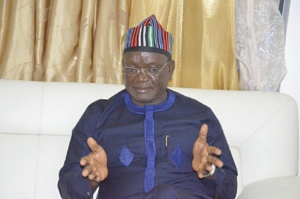 Did you discuss with the president the issue of compensation for victims of the attacks and the need to have a commission to cater for the needs of the affected persons?
So many things were discussed with the President including compensation and permanent security to address the immediate challenges that we have and to also have permanent security posts in our border communities to check the problem of the attackers invading the state from such areas. All that are on the table of Mr. President at the moment. There are certain things that I still need to get back to him to discuss. Talking of compensation I still need to go back and brief him to give him an idea of the magnitude of the damage.
The leadership of Miyetti Allah recently claimed that they attacked states like Benue because of their obnoxious laws that impede on their grazing activities, are you going to repeal or amend the grazing law in the state?
That is the point I made earlier. Is there any grazing law in Kaduna, or Adamawa, Niger, even the one in Taraba is yet to be implemented. Is there any grazing law in Edo, Eboyi, Zamfara states where there are killings? So, there are no laws in those places but why are there killings? They are only putting up an alibi to perpetrate these killings, it is beyond the law. I think that the law rather checks the crisis between herdsmen and farmers. You will agree with me that in Benue state we started the implementation of the law on 
November 1
 and it went on well here and people who flouted the law are already facing prosecution. Those who were not herdsmen and went after the cattle of herdsmen are currently being prosecuted. I know that three youths are currently in remand and are being prosecuted for rustling and for killing a herdsman and other associated crimes. They are facing trial at the moment. On the other hand about 18 herdsmen are also remanded and are facing trial for violating the law. So this shows that we are law abiding people and we will always seek to do the right thing. That is what l always tell my people to do. That is why when people brought the issue and allegation of armed militia I didn't give it any attention. You are all witnesses and saw when I came that I rather disarmed those militia gangs we had here and those weapons we recovered from them were publicly destroyed. Moreover if I have armed 6,000 militia as being alleged don't you think I would have sent and kept them in my own council ward in Guma local government where no herdsman would come and slaughter my people with knife when I have AK47 riffles. So these allegations are being used to divert attention from the main issues that we have on ground. It will not be accepted and I am not intimidated by such allegations from anybody. And moreover nobody was arrested in Benue state with AK47 anyway.
Some are saying that the Inspector General of Police who was directed by the President to relocate to Benue state is camped in Nasarawa state, is it true?
No, the Inspector General of Police is with us here in Benue state, he is not camped in Nasarawa state. Government provided accommodation for him here and his secretariat is right here in Jonah Jang Lodge. But since his operation requires the support and cooperation of Nasarawa state, there are certain things he must also do in Nasarawa state to bring the crisis to an end. You'll recall that even yesterday he summoned a meeting of the leadership of Benue and Nasarawa state but unfortunately the meeting did not take place but we are going to hold that meeting. The fact is that Nasarawa and Benue states are the centres of the activities where the IG will work to stamp out the crisis that is going on. So he has the oversight to do in Nasarawa state and then operate here in Benue state, so he did not relocate to Nasarawa state.
The Vice President recently came out with a statement that there was no time you approached him about the looming crisis in the state…
I will advise that you go and read that statement very well that was credited to the Vice President's press secretary. But I would not want to comment on that. The reasons are very simple, the Vice President is my boss, that is number one. And at the spiritual level he is my pastor. And so our people say that it is the big tree that falls on the smaller tree, and once it falls on it, it will not be able to move. So please just leave the matter that way.
Governor Simon Lalong has tendered an apology to the government and people of Benue state over his recent comment on the recent killings in Benue. Was the apology accepted by you?
Of course I have forgiven him. Even before he apologized, I forgave him as a Christian in line with the doctrine of our religion. We have accepted the apology. I also apologised to him for my outburst over the comment. We are two brotherly states grappling with similar challenges of poverty, underdevelopment and herdsmen crisis. So it will be rather of great benefit to our states if we move ahead and cooperate to find answers to the challenges that we are confronted with. We have no other option but to work closely as brothers to overcome our challenges for the common good of our people who are all yearning for the benefit of the dividends of democracy. It is an obligation we owe our people and this is not the time to falter.
The post Benue killings: We demand prosecution of leaders of Miyetti Allah —Gov Ortom appeared first on Vanguard News.
Tags 2014
You may also like...