Bad elements in security agencies selling arms to bandits — DSS
…1,100 illegal entry points in Nigeria — Customs
…No weapon missing in our armoury — Police
By Kingsley Omonobi & Emman Ovuakporie
ABUJA—THE Directorate of State Service, DSS, weekend, stunned members of the House of Representatives Joint Committee on Customs and Excise and National Intelligence with the revelation that some bad elements in security agencies were involved in the sale of small arms to bandits in the country.
It also noted that security agencies do not do enough checks on those they recruit, saying the agencies were flooded with former armed robbers and cultists, who have turned out to be the bad eggs in the system.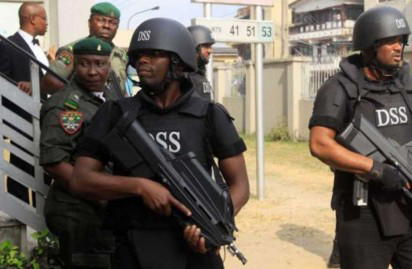 Director of Operations in DSS, Mr Godwin Eteng, made the revelation while speaking before the House of Representatives Joint Committee on Customs and Excise and National Intelligence investigating the influx of small arms and light weapons into the country.
But the Police in a swift reaction, said its personnel were not involved in such unwholesome act, saying they had been doing a lot in battling armed robbers and kidnappers in all parts of the country.
Eteng said: "Some agencies have over a period of time recruited people who were cultists and armed robbers before and are now wearing uniforms.
"The question is, are we doing enough checks on our people who were recruited into security services?
"Like we had a situation where in one of the armouries belonging to one of the armed forces, how many pistols just got missing, with quantities of ammunition and all the pistols were new.
"In the armoury, no place was broken into, but the weapons were missing. And we're interested in knowing what happened."
States not helping matters
He also revealed that some states were not helping matters when it comes to the incidence of proliferation of small arms and light weapons, adding that Nasarawa, Benue, Taraba, and Plateau were states acting as conduits for small arms and light weapons being used to fuel ethnic crises in some regions of the country.
He said: "When we did our studies, we discovered that three-quarter of the arms used to cause the crisis in Southern Kaduna, in Zamfara and Plateau states are coming from the following states: Nasarawa, Benue, Taraba and Plateau.
"We found out that if you can carry out serious operations to affect the supplies, which is coming from these areas, it will seriously limit part of what is happening there."
According to him, in the last one and a half months "we have conducted more than 27 operations and arrested more than 30 persons involved in the supply of arms and ammunition and some of them are serving security men."
Why the problem persists
Giving further reasons for the influx of illegal arms into the country, he said communal clashes, terrorism, kidnapping, herdsmen/ farmers clashes, political thuggery, militancy, cultism and criminal gangs combine to create a constant demand for arms in the country.
''Herdsmen from Senegal, Gambia and especially Central Africa come into the country through illegal borders carrying AK-47 rifles,'' Eteng said.
1,100 illegal entry points in Nigeria — Customs
Damgaiadinga Aminu Abubakar, a Deputy Comptroller, who represented the Comptroller-General of Customs, Hameed Ali, disclosed that while there were 1,100 illegal entry points into the country, only 97 were approved border posts.
He lamented the dearth of necessary equipment needed to stem the flow of weapons into the country.
He said 2,671 pump action rifles had been seized from January 2017 to date, adding that the Customs personnel found culpable in the import of 661 pump action rifles had been dismissed from service and handed over to the DSS for prosecution.
According to him, lack of operational vehicles, fast moving boats, cutting-edge technology and advanced scanning machines at airports, seaports and border points are limiting the effectiveness of the service.
He also said there was inadequate welfare for personnel, as some live in deplorable conditions.
No weapon missing in our armoury — Police
But Force Headquarters in a reaction, yesterday, absolved itself from accusations by the DSS that the arms and ammunition, which armed robbers, kidnappers and herdsmen use to terrorize citizens were purchased from security personnel across the country.
Force Public Relations Officer, Chief Superintendent of Police, Jimoh Moshood, said: "We don't have any report of arms and ammunition missing from our armouries. Our weapons are intact.
"We are a member of the Committee on the Eradication of Small Arms and Illicit Weapons. Nigerians can testify to the vigour and determination with which the police have been going after kidnappers and armed robbery gangs.
"We have made several arrests, recovered so many weapons and mopping up of weapons is going on also."
The post Bad elements in security agencies selling arms to bandits — DSS appeared first on Vanguard News.
Tags 2014
You may also like...