As APC's NEC meets today : Oyegun, Tinubu's 'soldiers' head for showdown
By Emmanuel Aziken, Political Editor and Omeiza Ajayi
LAGOS—Leading officers of the All Progressives Congress, APC, last night, warned of dire consequences at today's National Executive Committee, NEC, meeting should opponents of the outgoing National Chairman, Chief John Odigie-Oyegun, stop him from seeking re-election.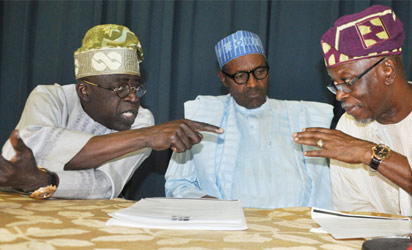 The warning from the pro-Oyegun elements in the party, came in the face of increasing support for the embattled national chairman from critical stakeholders in the party.
Opponents of Odigie-Oyegun, who are mainly associates of the party's national leader, Asiwaju Bola Tinubu, were said to be launching fresh strategies to outwit him. The camp of Tinubu, which produced Odigie-Oyegun as national chairman in 2014, is now said to be also pondering the option of a caretaker committee if that is what it would need to stop Odigie-Oyegun from returning to office.
Odigie-Oyegun, Vanguard learned, has successfully mobilised the support of the majority of all but one of the party's governors in the North-West.
In the South-West, where opposition to Odigie-Oyegun is most strident, support for him is, however, almost equally divided with opposition coming only from Osun and Lagos states.
Ogun and Ondo governors, according to Vanguard sources, are passionately behind the outgoing national chairman.
Though Governor Abiola Ajimobi of Oyo State is believed to be supportive of Tinubu's political moves, but his ability to deliver Oyo State to Tinubu is increasingly said to be in doubt.
Virtually all members of the NWC are also said to be angling to return on the same slate with Odigie-Oyegun, Vanguard learned yesterday. That is despite the initial disinterest by the 79-year-old for a second term.
The NWC members, one source said last night, are determined to be in office to handle the primaries that will produce candidates for the 2019 elections.
"You know what it means to be a national officer in an election year, so members of the NWC cannot afford to rock the boat, they are all backing Oyegun for their return to office," one source revealed yesterday.
Significantly, Odigie-Oyegun is also seriously being opposed by his state chapter of the party, Edo State, which he governed from 1992 to 1993.
The anti-Oyegun forces, it was learned, were mobilising to raise allegations of financial malfeasances against him and members of the National Working Committee, NWC, a move it is believed is aimed at gaining the favour of President Muhammadu Buhari to stop him from seeking a second term.
A leading member of the NWC disclosed, yesterday, that the NWC was set to go ahead with the recommendations of the Governor Simon Lalong-led committee for fresh congresses but with a caveat that Odigie-Oyegun should not be stopped from seeking re-election.
"We are set for the NEC, and we should expect a smooth meeting but if they try to stop or disqualify the national chairman, we will tell them that we can spring surprises," the principal officer was quoted as saying.
The president's neutrality
The pro-Odigie-Oyegun forces, it was gathered, were working on extracting a commitment from President Buhari for a neutral field in the forthcoming congresses expected to produce the next national executive.
"The Odigie-Oyegun people want to bank on Buhari's neutrality to push forward the national chairman as he is not expected to directly oppose him or support him, so that gives them the opportunity to push forward his bid," a source privy to the development said.
Odigie-Oyegun's main challenger, Vanguard learned, had been the immediate past governor of Edo State, Comrade Adams Oshiomhole. His bid is, however, increasingly facing challenges from some APC governors who see him as too independent for the office.
"You know Oshiomhole, he is too independent and too wealthy to be influenced," one party member told Vanguard last night.
State chairmen
Meanwhile, the forum of state chairmen, yesterday, denied claims that they were being mobilised by some governors to stop the envisaged congresses as desired by President Buhari, in line with the constitution.
The state chairmen after a meeting in Abuja threw their support behind the president as they dissociated themselves from any such conspiracy to humiliate the President.
"We call on APC members and supporters nationwide to disregard a news headline from one of our national newspapers to the effect that governors move to stop plot to use chairmen against Buhari. There is no such plot, and no chairman is against Buhari. We are all behind Buhari," Chairman of the Forum, Alhaji Nasiru Danu, and the spokesman, Mr. Jock Alamba, told newsmen shortly after a meeting of the chairmen in Abuja yesterday.
"Accordingly, our Forum has the fervent belief that APC like in the 10 December 2014 Presidential primary and other primary elections will work together as a family and disappoint naysayers who are hoping for Armageddon," they added.
The state chairmen, who had earlier backed the February NEC motion for the extension of the tenure of all office holders in the party, said they were compelled to bow to the superior constitutional submission by the president.
"President Buhari's concern for due process is legendary, that we could not underrate his concern that since the law is an ass, our most likely 2019 presidential and other electoral victories should not be toyed or placed in jeopardy with legal niceties or put in harm's way of fortune hunters.
"Our position is reaffirmed after a careful survey, which shows that 99% of the entire membership and governors of our great party are in support of Mr. President's second term bid.
"It is a common position that for the overall interest of our great country that Mr. President should complete the critical infrastructural foundations he is laying," the chairmen stated.
The post As APC's NEC meets today : Oyegun, Tinubu's 'soldiers' head for showdown appeared first on Vanguard News.
Tags 2014
You may also like...