Anambra poll: PDP aspirants Obiogbolu, Ezeanuna say PDP can still get it right
By Chimaobi Nwaiwu
TWO PDP aspirants, Dr. Alex Obiogbolu and Zeribe Ezeanuna, yesterday, expressed dissatisfaction with the conduct of the Ward Delegates' election of Monday but expressed satisfaction that the process could still be improved upon.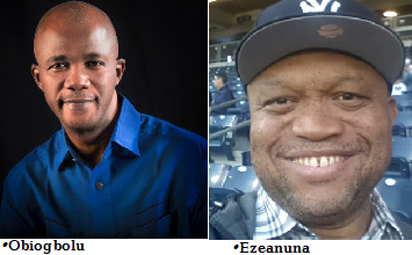 Dr. Obiogbolu stated that as a loyal party member, he still has confidence that at the end of the day the party will get it right and the best candidate accepted to all the contestants, will emerge. "I will not say that there is any particular issue in the ongoing primaries that is bothering me, my worry is also the worry of other contestants, but I believe we can get it right, they are things that we can amicably correct and at the end of the day have the best primaries one can think of and have our candidate emerge and accepted by all.
"I am very confident that at the end of the day I will emerge as the candidate of the party, there is no doubt about it. The odds are all in my favour, and that is the reward for a loyal party man, I have been consistent in the party and had against all odds maintained my loyalty to the PDP as the greatest and the most popular party in Nigeria.
"I am also satisfied with the calibre of people that were appointed by the party to supervise the primaries. These are Governors Ayodele Fayose, and Chief Nyesom Wike and top members of the party that have gone through elections in the party, served the country in various capacities and had continued their loyalty to the party. They believe in PDP and we believe like they have promised that they will give us the best election that will be free from rigging."
Dr. Obiogbolu noted that the candidate PDP produces for the election would be the beginning of its victory at the governorship election proper and urged the party not to miss the opportunity of reclaiming some of the states it lost to other parties with the November 18, 2017, Anambra governorship election.
Meanwhile, Zeribe Ezeanuna who is also contesting for the PDP ticket also said that he shares the view of Dr. Obiogbolu, adding that the Ward Delegate Election did not go as it was supposed to go.
"I believe that we can make amendments now there is no cause for alarm but I will give you my final reaction once I get a clearer picture of what is happening, but it is on record that in my Ward I did not see anybody," he said.
The post Anambra poll: PDP aspirants Obiogbolu, Ezeanuna say PDP can still get it right appeared first on Vanguard News.
Tags 2014
You may also like...