2nd term: President Buhari will disclose his intention … – Oyegun
By Emmanuel Aziken, Political Editor, Simon Ebegbulem, Victoria Ojeme & John Mkom
President Buhari will disclose his intention towards a second term soon
ABUJA—Minister of Women Affairs, Senator Aisha Alhassan, yesterday, reiterated her earlier assertion to support Atiku Abubakar against President Muhammadu Buhari in any presidential duel, even as she pledged her loyalty to the President.
Following the controversy over her stance, Alhassan sought to put the media at arm's length, parrying questions when she made a surprised appearance at the Presidential Villa, even as the press was also locked out of her scheduled official engagements.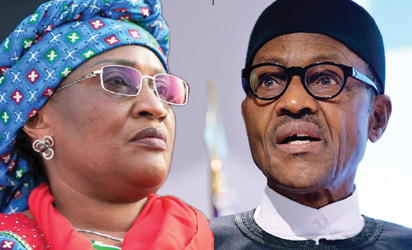 There were whispers, yesterday, in the pro-Buhari and pro-Atiku camps in the All Progressives Congress, APC, on Alhassan's past actions.
Sympathisers of the President faulted her for what they described as indiscretions, alleging that some ministers had in the course of the President's medical vacation, shown double loyalty with some at the "point of jumping ship."
A number of  ministers were accused of double loyalty.
"The faith of many people were tested as some ministers even thought that the President would not come back," one senior associate of the President told Vanguard.
One associate of Atiku, however, let it out that Alhassan had in the past made attempts to resign from the cabinet. No reason was, however, given and the minister could not be reached, yesterday.
Meanwhile, officials of APC in her home state, Taraba, shied away from commenting on the crisis.
Let the will of God be —Alhassan
Senator Alhassan during a visit to the Presidential Villa, sought to play down the controversy, even as she affirmed that she stood by her words, telling State House correspondents "let the will of God be."
She, nevertheless, affirmed that her loyalty to Atiku did not mean disloyalty to Buhari during a telephone interview with the News Agency of Nigeria, NAN.
My loyalty to Buhari unshakeable
Alhassan explained that Abubakar had remained her political mentor over the years and was still a stalwart of the APC, adding that her loyalty to Buhari and his administration, which she serves as a minister, was "unshakeable."
She accused her "political detractors" of "amplifying and misinterpreting" the visit so as to smear her image because they were afraid of her growing political strength in Taraba.
She said: "In a nation where politicians are quick to dump the people that assisted them to get to where they are for political expediency, I have chosen to maintain a long standing family relationship with Abubakar as well as Buhari, who I consider as a father.
"Besides, neither Buhari nor Abubakar has officially told anyone of an interest in seeking election in 2019."
Declaring that power comes from God, she said if she loses her job because of her visit, she would consider it as the will of God.
She urged Nigerians to support the policies and programmes of the Buhari administration because it was time for governance and not yet time for politicking.
Buhari 'll disclose intention towards 2nd term at appropriate time —Oyegun
Meanwhile, National Chairman of the APC, Chief John Odigie-Oyegun, has said at the appropriate time, President Buhari will disclose his intention towards a second term.
Chief Odigie-Oyegun, who spoke to newsmen, yesterday, in Benin City, said one of the greatest achievements of the Buhari-led administration was bringing Nigeria out of recession as recently declared by the National Bureau of Statistics, NBS, asserting that more progress would be made before the 2019 presidential election.
He said: "The decision, whether our President will run for a second term, is a decision only President Buhari can make, and he will make it at the proper time. For now, he still has nearly two years of painful, strenuous reconstruction of the Nigerian economy and all the other promises he made both in anti-corruption and on security is still serious work in progress.
"At the proper time, he will decide, and at the proper time, the APC will decide and the public will know."
On the threat by the opposition Peoples Democratic Party, PDP, to reclaim power from the APC in 2019, Chief Oyegun asserted:  "They are allowed to continue on their dreams, they are just coming out from intensive care unit. So they need a lot of nurturing, so this is good for their ego."
The post 2nd term: President Buhari will disclose his intention … – Oyegun appeared first on Vanguard News.
Tags 2014
You may also like...