207,818 are unqualified teachers in pry schools in 2010 in Nigeria – Survey
Abuja – Prof. Josiah Ajiboye, Registrar, Teachers Registration Council of Nigeria (TRCN) says a good training for teachers would help rebuild the country's educational system.
Ajiboye said this at the Teachers Day Symposium to commemorate the 2017 World Teachers Day in Abuja on Thursday.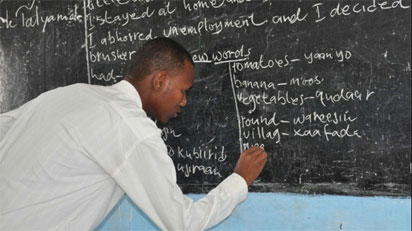 The theme for this year's celebration: " Teaching in Freedom: Empowering Teachers for the 21st Century Challenges''.
According to him, a survey conducted in 2010 revealed that there were 207,818 unqualified teachers in the primary schools.
" The North-East zone had the highest figure of 57.7 per cent. Undoubtedly, the situation degenerated with invasion of the insurgents.
"The North-West had 46.8 per cent; North-Central 38 per cent; South-South 19.2 per cent; South-East 16.7 per cent and South-West 6.7 per cent.
" An experiment in some states in 2014 also revealed that 1,300 out of 1,599 state teachers failed arithmetic and basic literacy tests by scoring below 25 per cent ''
Chart – Here chart
Ajiboye added that 259 teachers in another state among who were university graduates flunked a test meant for primary four pupils in 2008.
He said all these were adding to the problems of ascertaining the quality of teachers in Nigeria.
"The quality and quantity of teachers demands a strong policy response.
"Rebuilding the system should take into account how the once cherished vocation, the mother of all professions should attract the best brains and retain them.
"Professional training is critical, just as mastery of subject matter, teachers' welfare and an environment that promote learning.
He, therefore, called on the Federal Government to create a more conducive environment to enable teachers practice their profession.
Ajiboye noted that many countries had not come to terms with the crucial strategic role that teachers play in the society.
He also called for adequate motivation for teachers as well as a well paid salary as most states owed their teachers between six to nine months salaries.
World Teachers' Day has been celebrated worldwide annually on Oct. 5 since 1994.
It was initiated by UNESCO as a proclamation to celebrate the great step made for teachers on Oct. 5, 1966 at a special intergovernmental conference in Paris, France. (NAN)
The post 207,818 are unqualified teachers in pry schools in 2010 in Nigeria – Survey appeared first on Vanguard News.
Tags 2014
You may also like...