2019: Thread with caution, MUSWEN warns politicians, religious leaders, voters
The Muslim Ummah of South West Nigeria (MUSWEN) on Sunday in Ibadan called on politicians, religious leaders and the electorate  to thread with caution as the 2019 general elections approach.
The group made the call while briefing newsmen  at the end of its Central Working Committee (CWC) meeting in Ibadan.
Prof. Dawud Noibi, Executive Secretary of MUSWEN,  told newsmen that  several issues had  dominated public discourse across the nation since the beginning of the  year and MUSWEN was worried by the undue politicisation of many of the  issues by religious, ethnic and political leaders.
Noibi, however,  called on all Nigerians irrespective of religious belief  to bear in mind the need to continue to live together in peace and harmony.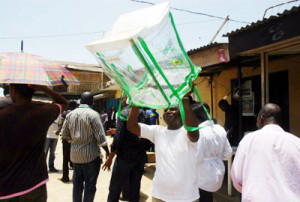 "Contest for political positions should not be a do-or-die affair and should rather be a contest of ideas about building a better future for Nigeria and Nigerians.
"Politicians must conduct themselves in a decent manner and not turn Nigeria into a battle zone.
" They must remember that only Allah can grant power and authority to whoever He wills.
" We call on all politicians, religious leaders and the electorate to eschew violence in whatever form because the nation can only make progress in an atmosphere of peace,'' Noibi said.
Noibi also called on former political  leaders,  especially Olusegun Obasanjo, Ibrahim Babangida and Theophilus Danjuma,  to exercise restraint  as elder statesmen in their comments.
He further warned the   youths to be wary of   inflammatory remarks,  saying they should rather work for the peace of the country.
Noibi  commended the efforts  of the Federal Government in  securing  the release of the Dapchi school girls, adding that the  support and prayers  of well-meaning Nigerians were  instrumental in  ensuring their   safe return.
The group also  prayed for the repose  of the souls of the five girls who lost their lives during the abduction saga.
"We are,  however, disturbed by the report that the Boko Haram group continues to hold hostage the only non-Muslim girl among the abductees, Leah Sharibu, who is said to have  refused  to convert to Islam.
"We want to reiterate the fact that Islam forbids forceful conversion of non-Muslim to Islam and enjoins respect for people of the book.
"We condemn the action of some Christian leaders and elders who have politicised this sad development which has nothing to do with Islam.
"We declare for the umpteenth time that Boko Haram group does not represent Islam and the Muslim Ummah in Nigeria,'' he  said.
Dignitaries at the press conference included  Alhaji Sakariyau Babalola, the President of  MUSWEN and  Mr  Abdul Jabbaar Ajibola, the Chairman of the  Board of Trustees of  MUSWEN.
The post 2019: Thread with caution, MUSWEN warns politicians, religious leaders, voters appeared first on Vanguard News.
Tags 2014
You may also like...