2018 will be better for Nigeria—Bishop Nwokolo
By Chimaobi Nwaiwu
NNEWI—BISHOP on the Niger, Rt. Rev. Dr Owen Nwokolo on Sunday expressed optimism that the year 2018 will be a year of achieving some of the things that were difficult to achieve in the past years and urged Nigerians to have confidence in God.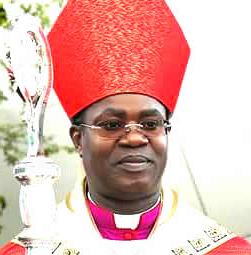 Delivering his New Year message in Onitsh, Bishop Nwokolo told Nigerians, that irrespective of the fact that God has a lot of good things in stock for his children, the people should plan their ways ahead.
"As the year is beginning, remember that the Lord blesses and plans. You must lay down your plan on what you think you are able to do and what you want to pursue and present it to God and he will bless it for you, and direct your path.
"If you do not have any plan, you have planned to fail because he who does not plan to succeed, is planning to fail. We need to plan ahead of time and with commitment and prayer, hand them over to God and believe that the year 2018 will be a special year of victory for the children of God. This is a year of God's blessing, it is a year of prosperity."
He however, thanked God for granting  the living the opportunity to witness the year 2018.
The post 2018 will be better for Nigeria—Bishop Nwokolo appeared first on Vanguard News.
Tags 2014
You may also like...