200 youths renounce cultism in Ikorodu
* appeal to LASG to provide job opportunities
* Joblessness made us join cultism- former cultists
By Evelyn Usman
Two hundred youths in Ikorodu area of Lagos, publicly denounced their membership from different confraternities, Monday, supporting the action by surrendering weapons in their custody to the police.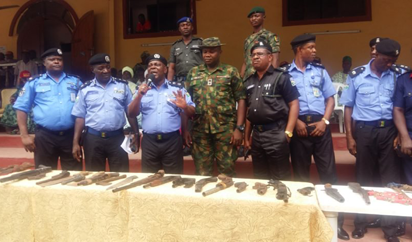 This brings to 860, the total number of youths that have denounced their membership from cultism in four months, in Ikorodu alone.
Commissioner of Police, Lagos State Police Command, Imohimi Edgal, who was at the palace of the traditional ruler of Ikorodu , Oba Kabiru Shotobi, to receive the weapons, acknowledged the youths for taking such bold step, even as he noted that the event was as a result of the community policing and community partnership in place.
He disclosed that the weapons surrendered was 15 locally made long guns, 30 bullets, 11 cutlasses, four axes, four double-barrel guns, five short locally made pistols and a sword, addign that they would be taken to the command's armory.
He however advised them to partner with security agents by availing them with information on criminal activities of other youths who refused to turn in themselves.
Today, we are in Ikorodu at the instance of our royal father and his lieutenants to take over these arms and ammunition that belong to members of major cult groups who renounced such confraternity.
"We have identified leaders of Aiye, Aye and Buccaneer, who have come out with their over 200 members to give up arms.  What is happening here is that jointly, we are making history. All these weapons have been voluntarily handed over by cultist who have renounced membership and have pledged to build Ikorodu and allow peace, security to reign.
"These arms are weapons of destruction and I am happy you volunteered to relinquish them. They would be sent to police armoury. I here there are still few persons in your midst, who do not want to join this drive to shun cultism. Be vigilant. Do not allow them to carryout their activities in Ikorodu.
"I have told my men here to partner you in order to arrest such persons. I know you have fears and uncertainties but I can assure that there is a process. Your renunciation is the first step. Thereafter, the oba will approach the Local Government Chairman to train you in vocational skills before your reintegration into the society.
"There would also be  opportunities for soft loans to establish your vocational trade. Ikorodu is the fastest growing part of Lagos and the world is concerned about what is happening here.
"I hereby call on youths of other communities in Lagos to renounce cultism. I am also appealing to youths to shun hard drugs. If you take these drugs, you won't have a bright future."
In his welcome remark, leader of Onyabo Vigilante Group, Lanre Olabijo, said that it took the group , with the support of traditional rulers in the state over six months to talk leaders of the different cult groups into renouncing their membership.
He therefore, called on the Lagos State Government to provide job opportunities for the former cultists, even as he appealed to the CP to caution his men not to harass or intimidate the repentant youths.
In his remark, Oba Shotobi described the renunciation move as a welcome development in the right direction towards ensuring security in Ikorodu , explaining that part of the reasons why the renunciation was being done publicly was to prove that Ikorodu was not known for criminal right from the onset.
Responding on behalf of the former cultists , former leader of Aiye cult group, Afeez Sholebu pledged the resolve of his colleagues never to return back to cultism, stating that an undertaken had been signed in that regard.
But he appealed to the Lagos State Government to do all within its capability to engage them in vocational skills and eduction where necessary.
He said : " Most of us are graduates and part of our demands to the state government is to be given permanent jobs , as well as vocational skills. We also demand for scholarships to any institution within the country as well as infrastructural development of Ikorodu . Again, loans should be given enhance our skills."
Most of the former cultists who spoke with Vanguard said they joined because they were jobless . One of them who spoke on the condition of anonymity said that the voluntary renunciation was an opportunity he had been waiting for , to get out of cultism.
He said " I joined cultism because I was jobless. I am a graduate and have been staying at home without doing anything. A friend who introduced me said I could be hired by rich men to work for them. When I joined, I saw the negative side, even though I was getting stipends."
The post 200 youths renounce cultism in Ikorodu appeared first on Vanguard News.
Tags 2014
You may also like...