12 year-old singer, Iseoluwa drops 'Iseoluwa'
INDICATIONS that a lot of untapped talents abound among the kindergartens emerged recently when a 12-year old gospel singer, Iseoluwa Abidemi, was unveiled alongside her maiden album  "Iseoluwa."
The single tracked album is a project made possible by her hard work, parents and project manager/producer.
Speaking at a press parley to announce the work at her family residence in Shimawa, Ogun State, Iseoluwa appreciated God, her parents and the producer who worked tirelessly to see the birth of the project.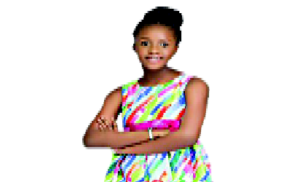 "I thank everyone present at this conference, I thank my parents as well for the opportunity. I also appreciate my producer, Mr. Frank for the encouragement. I want to go far in music and I want to also excel at my studies," she said.
Continuing, the young artiste who prefers to stay on the gospel music genre said "I want to show the wonderful works of God and His existence through my music. So I am not going secular because I want to sing gospel.
"Asa and Nathaniel Bassey are my role models and I want to use my music to influence my world positively. I also want to study Law though music is my passion," she added.
Speaking at the press parley, project manager and producer, Harrison Frank said, "Iseoluwa's work has been encouraging. After the likes of Tosin Jegede and Benita, there has been no kid stars and this has made the children adopt adults music. Iseoluwa is young and she needs to be promoted."
Harrison added that, it is one thing for an artiste to bring out a work, but it is another thing for the work to be sustained. "We have been able to put things together and we have drawn a plan. She needs to be on the faces of the people therefore we want to ensure she is very busy musically we would work on different programs at different times."
The post 12 year-old singer, Iseoluwa drops 'Iseoluwa' appeared first on Vanguard News.
Tags 2014
You may also like...